The Only Tattoo Shop You'll Trust
Body Graphics is a specialty tattoo and piercing company offering electric tattooing and body piercing by some of the most informed professionals in the business / area. With twenty resident artists and numerous guest artists from all over the world, all styles of work, in large or small formats can be done upon request.
If you're looking for a studio that gives you the best quality service on your unique piece, Body Graphics is where you want to be. Want to get in touch with us? Go to our contact page and we will answer any questions you couldn't find in our visiting section! Ready for your tattoo? Check our listed locations and we will be happy to book an appointment for you.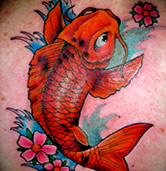 View our artists by name.
---
Find the closest shop and its hours.
---
Keep your piece looking great!
Latest News
Gift Certificates Available!
Perfect for the holidays